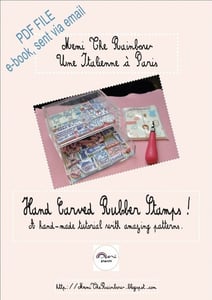 €

6.00
Learn how easy is to make hand carved rubber stamps with this ebook!
This tutorial has 35 pages and it is formed by two parts. In the first part I list all the tools you need and all the steps that will lead you to be able to create your hand-carved rubber stamps. In the second part I drew a lot of cute templates inspired to my world and to the things that I love, which you can use as ideas for your hand-carved rubber stamps. Here you will find so much as 28 pages stuffed with drawings divided into various themes, from the monuments of Paris (the town where I live and that I love), to its food and its particularities... but you will also find pictures of everything that I find pretty as mushrooms, hedgehog, butterflies, bunnies and much more ... all represented through a simple and basic style suitable for becoming a good pattern on which to create fantastic stamps. I am sure that these drawings will be useful both to those who relate to this technique for the first time as a basis on which to practice and to learn, and to those more experienced as a source of original ideas to create truly unique stamps.
Furthermore, I will rest at your disposition if something will apear you not clear, just sending me an email.
NO SHIPPING FEES, it is an e-book! ***PLEASE*** Provide me a capacious email adress able to receive the pdf file, which has a big size (yahoo and gmail always work).
You will receive this PDF file to your e-mail within 24 hours after payment. You will need Acrobat reader in order to view this file. Please provide me an email adress that can accept a big size file.
NOTE: This tutorial is only for personal purposes and is protected under copyright laws and cannot be sold, distributed or reproduced in any form.